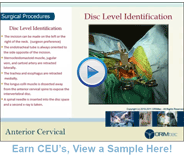 Welcome to ORIMtec
ORIMtec Vision: Our vision is to provide the most comprehensive, technically advanced monitoring services for the benefit of patients and in collaboration with surgeons, and to act as a resource to those who provide monitoring services using customized products.
MISSION: Our mission is to enhance IONM services through continual improvements to training and education, and to develop support products, including reference materials and an interactive communications platform, for the benefit of the monitoring community.
At ORIMtec, if a life is enhanced or saved, our mission is realized. We look toward the horizon for possibilities and when they emerge in our line of vision, we strive to build on that potential. An evolutionary blend of medicine, technology and compassion reinforces our ability to succeed.