Anesthetic Agents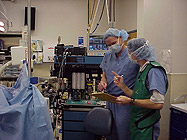 Anesthetic agents can have a dramatic affect on monitoring modalities. Establishing a rapport with the anesthesiologist is critical so that he/she will use an anesthetic technique that will not adversely affect the monitoring modalities.
In this session, you will learn about inhaled and intravenous anesthetic agents and their affect on the various monitoring modalities. The instructor will guide you through an in-depth discussion of the various anesthetic agents, their purpose, characteristics and affects on the various modalities. Agents covered include:
Narcotics
Benzodiazepines
Barbiturates
Inhalation agents
Neuromuscular blockades
This session concludes with a discussion on physiological factors and their affect on somatosensory evoked potentials.
Continuing education credits have been approved by the American Society of Electrodiagnostic Technologists (ASET) and the California Board of Registered Nurses (BRN). Please check with your state board of registered nurses for continuing education credit approval.
To schedule a training please call (916) 631-0112