Introduction to the Operating Room — Infectious Disease Control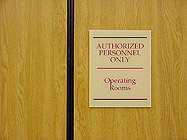 The operating room can be a hostile environment. There are strict standards that must be followed so that sterile fields aren't contaminated. Prevention of infection and the spread of disease is the primary concern. Navigating the operating room can also be a challenge so as not to disrupt the flow.
This module acquaints you with operating room traffic flow, infectious disease control and universal precautions. Each of the following areas is covered in detail:
Pre-surgical patient admission procedures
Unrestricted, semi-restricted and restricted areas
Wound classification
Infection control
Sterile technique
Universal precautions
Causes of infection
Navigating the operating room
Precautions at the close of surgery
Continuing education credits have been approved by the American Society of Electrodiagnostic Technologists (ASET) and the California Board of Registered Nurses (BRN). Please check with your state board of registered nurses for continuing education credit approval.
To schedule a training please call (916) 631-0112