Pre-induction Protocol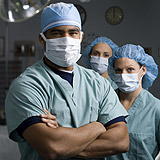 The surgical team is composed of a variety of specialists. It is important to understand each person's role and how to interact with them. The monitorist is part of the surgical team and plays a very important role. The common goal is the safety of the patient.
This module will familiarize you with operating room personnel, the patient holding area and equipment in the operating room. The following topics are covered:
Introduction to surgical team members
Operating room setup
Monitoring equipment placement
Pre-operative holding procedures
Pre-surgical procedures
Ancillary surgical equipment
Continuing education credits have been approved by the American Society of Electrodiagnostic Technologists (ASET) and the California Board of Registered Nurses (BRN). Please check with your state board of registered nurses for continuing education credit approval.
To schedule a training please call (916) 631-0112