Surgical Procedures & Instruments - Cervical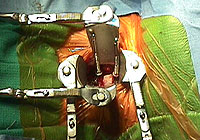 When possible, it is helpful to talk with the surgeon prior to the start of a procedure. Understanding the surgical plan will better prepare you for the case. Since most surgeons do not narrate during an operation, it is crucial to know what is happening based on the instrument being used. Knowing this will guide you to institute the correct modalities to the correct neural structure(s) at the appropriate time.
Though each surgeon's preferences and approaches are unique, the basic concepts are uniform. The following presentation will take an in depth look at the instruments, positioning devices, and techniques most commonly associated with today's cervical procedures.
View a sample below.
REGISTER NOW!
Continuing education credits have been approved by the American Society of Electrodiagnostic Technologists (ASET) and the California Board of Registered Nurses (BRN). Please check with your state board of registered nurses for continuing education credit approval.
To register Click Here.