X-ray, MRI and Conditions of the Spine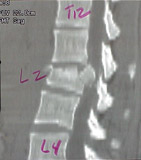 Before surgery begins, the neurotechnologist must understand the pathology of the patient. Tools available to do so are the x-ray, CAT scan and MRI. The ability to identify pathological changes will help the neurotechnologist apply the necessary electrodes prior to the start of the procedure.
Many of the conditions of the spine require surgical intervention. This course will familiarize you with basic intraoperative radiographic studies and imaging including the following topics:
Standard x-ray views
X-ray equipment in the operating room
Intraoperative x-rays and MRI
Cervical spine
Thoracolumbar spine
Conditions of the spine
Continuing education credits have been approved by the American Society of Electrodiagnostic Technologists (ASET) and the California Board of Registered Nurses (BRN). Please check with your state board of registered nurses for continuing education credit approval.
To schedule a training please call (916) 631-0112